Hover over image to pause.
  Named after the fictional character in the 'Lion King' Simba was indeed aptly named. His athleticism and agility are cat-like and his enjoyment of performing in his 'jungle', the showjumping arena, is evident to all who watch. Simba is a real character with enormous presence, yet in the stable he is as gentle as a kitten.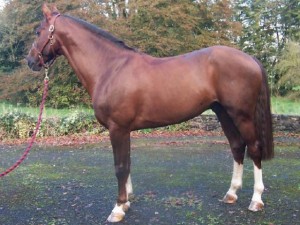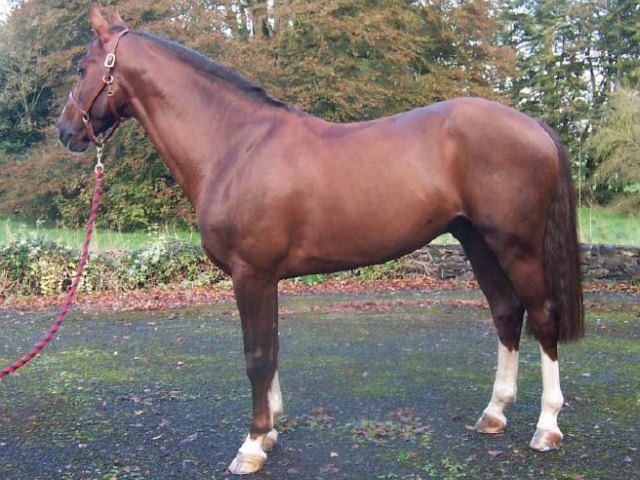 As a young horse Simba qualified for all major young horse finals including winning a class at the RDS as a six year old. Carefully produced, he was introduced to small Grand Prix as a seven year old and ended his eight year old season being placed in his first International Grand Prix at Cavan.
Simba's pedigree brings together 3 of Europe's most famous bloodlines: Heartbreaker, Voltaire and Lucky Boy.
Simba's Sire Heartbreaker is by the world renowned Nimmerdor who himself was a successful international Showjumper. Heartbreaker needs no introduction. While competing with his rider Peter Geerink he was placed in the worlds biggest Grand Prix including Aachen and Dortmund. As a sire he has led the showjumping index in Holland and Belgium and has numerous sons jumping at the very top.
Simba's Dam Sire Voltaire is equally impressive carrying the influential bloodlines of Furioso 11 and Gotthard. Voltaire competed worldwide from Calgary to Wembley winning the Berlin Grand Prix with World Champion Jos Lansink. As a sire Voltaire has over 30 approved sons in Europe finishing second in the 1999 World Breeding Rankings of Showjumping Sires. Add to Simbas pedigree the thoroughbred Lucky Boy who features in the background of many of today's top jumpers including Nick Skelton's Arko.
I have a big quality yearling filly by Simba with exceptional movement. We have bred a lot of horses but she is as good as we have ever bred.' Mr. Andrew Hughes, Breeder