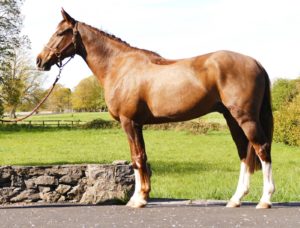 2014 Chestnut Gelding 168cm
Like his many full siblings 'Smurf' is destined to excel. Six  of his siblings have competed at 1.30m or higher. Smurf is very intelligent and his easy temperament makes him a willing scholar. Smurf is naturally well balanced and rides beautifully on the flat.
If Smurf was human he would be……………..one of the lads, always up to mischief! Somehow he would never get in trouble with his Mam – but that wouldn't mean he was innocent!!                                                                              
Simba
Heartbreaker
Nimmerdor
Bacarole
Kamonika
Voltaire
Bonika
Carroll Coevers
Coevers Diamond Boy
Diamond Lad
Lochnavar Lady
Clonlara Jennifer
Tammouz
Clonlara Lass