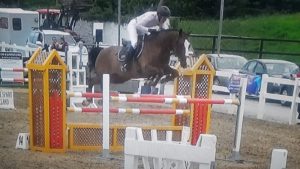 2008 Chestnut Geld. 165cms
The horse to put a smile on your face every morning! Felix is a delightful character combining the best of Irish and Dutch bloodlines. Currently competing 1m 30.
If he was human he would be …………………………A Loveable Gangster!
Felix would be forever getting other kids in trouble!
He would be a young business entrepreneur that would be dealing in everything in the school yard- somehow too smart to get himself in trouble!!
Simba (KWPN)
Heartbreaker (KWPN)
Nimmerdor (KWPN)
Bacarole (KWPN)
Kamonika
Voltaire(HANN)
Bonkia(x Lucky Boy)
Carroll Coevers
Coevers Diamond Boy(ISH)
Diamond Lad (ISH)
Lochnavar Lady
Clonlara Jennifer
Tammouz (T.B)
Clonlara Lass
Video