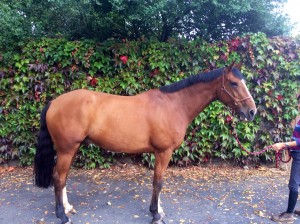 2006 175 cms Bay Geld
Bred at Richmond, Chip is a tall scopey individual with a sensitivity that is needed in todays Grand Prix. Careful and athletic, Chip is currently jumping 1m.30.
If he was human he would be……………………………………….A Quiet Individual!
He would be very suspicious of strangers and not a 'chancer', but once he knew you, he would be very loyal and kind giving 100%.
Chippison (ISH)
Cavalier Royale
Cor De La Bryere
Ligustra
Chipmount (ISH)
Flagmount Boy
 Little Chip
Carroll Coevers
Coevers Diamond Boy(ISH)
Diamond Lad
Lochnavar Lady
Clonlara Jennifer
Tammouz ( T.B )
Clonlara